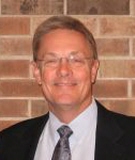 John Turnbull
Funeral Director & Owner
John David Turnbull was born in Monmouth, the son of David and Ruth Buchholz Turnbull, he was reared and educated in the local schools and graduated from Monmouth High School. After high school he attended his first years of College at Iowa Wesleyan College in Mt. Pleasant, Iowa. As a junior he transferred to the Mortuary Program offered by the University of Minnesota and completed his Bachelor's degree in Mortuary Science in March of 1972. At this juncture, he returned to begin his apprenticeship at the family firm in Monmouth, under the tutelage of his father, David Turnbull. John married Denise Pierce of Monmouth, and has a son Zachary and a daughter Natalie.
John has been with the firm for 35 years as an apprentice, a funeral director, a business partner with his father, an owner, to the employer of his father, and finally as the proprietor of the firm.
Other than his college years, he has spent the majority of his life in the Monmouth Community and has served in a variety of positions in his church, the Chamber of Commerce, the YMCA, the Warren County Prime Beef Festival, and the Monmouth Rotary Club. John also served a number of years on the Warren County Board and the Warren County Public Health board. John enjoys good field work and English Setters, a good daily swim workout at the Y, skiing whenever possible, spending time at the river, playing piano, good piping, and his Scottish heritage.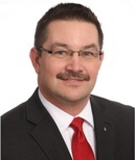 Tony L. Cook
Licensed Funeral Director/Embalmer
Tony was born in Monmouth, Illinois the son of Robert and Connie (Bates) Cook. He attended schools in Monmouth and is a graduate of Monmouth High School. He attended Carl Sandburg College and the University of Illinois Fire Service Institute where he received certification as a Certified Firefighter III. He also achieved certification as a Certified Fire Officer. His coursework was extensive in Management, Tactics and Strategy, Instructor, and Roadway Extrication. Tony was employed with the Monmouth Fire Department from 1996-2016 and held the rank of Captain. Prior to his employment, he served for 5 years with the Monmouth Volunteer Fire Company. Tony has spent his entire career serving the needs of the people of Monmouth and surrounding communities with his work in public safety. He is a graduate of the Mortuary Science Program at Carl Sandburg College. Tony married Leslie James of Glenview, Illinois and together they have one daughter Aubrey.
Tony began his employment with Turnbull Funeral Home in November of 2012 as a funeral assistant. He now serves as a Licensed Funeral Director/Embalmer.
Tony has spent his entire life in the City of Monmouth. He owned a local small business, Cook's Upholstery, which he closed in 2014 to pursue a career with the funeral home. Tony spends his time enjoying many hobbies and interests which include woodworking, cooking, collecting, competitive pistol shooting, and the study of U.S. history. His main interest is traveling and having fun with his family. Tony is a Past Master of the Monmouth Masonic Lodge #37. He is also a member of the Warren County Sportsman Club in Roseville.