Obituary for Lucille Gillen
Lucille Gillen, 96, of Monmouth, passed away on September 12, 2018 at the Monmouth Nursing Home.

Lucille was proud that she was a Gillen, that she was Irish Catholic and that her family came to her house for Christmas. It was a family tradition that started with her parents on the farm west of Monmouth where she grew up. The family gathered at the farm on Sundays after Mass, but as the years went by and the family grew and spread out the big event became the family gathering at Christmas. When Lucille arid her parents moved to Monmouth, Lucille kept the tradition alive, sometimes squeezing 60 or more members of the family, in-laws and friends in the house on North H Street for Christmas dinner. To accommodate the crowd she would park her pink Cadillac in the driveway and put extra tables and chairs into the garage. When you strolled through the house on those days, the livingroom, the den, the kitchen, the bedrooms and the garage would be lined with chairs full of well-fed people, laughing and talking. There were coveys of cousins everywhere, conspiring, comparing and bonding.

Lucille did not marry but lived a life of service to her parents, E.T. and Katherine Gillen. She did not have children, but she had 36 nieces and nephews that she loved and cherished as if they were her children. There were Elliotts, GIllens, Sullivans and Hennenfents. Sometimes she would purposefully mispronounce the name of the last clan, asking "How are the hens on the fence today?" For years every niece and nephew received a card with five dollars for his or her birthday.

She was fun loving and renowned as a graceful dancer. She liked music and listened to Dean Martin, Frank Sinatra, Nat King Cole, early rock and roll and big bands like Glenn Miller and Guy Lombardo. There was a radio in the kitchen that was tuned to WRAM or WMOl so she could listen to music, hear the local news and follow the endeavors of her nieces and nephews who played sports.

If you were fortunate enough to go to dinner with her on Saturday night, it was something that you would never forget. She went to the Colonial Hotel or Melings to dine while Grace Peterson created an elegant mood with her piano. A steady stream of friends and acquaintances would stop by the table to say "Hello" and she would introduce you to everyone like you were an important foreign diplomat. To a small child that did not know any better it was like a glimpse of a night out with the Rat Pack, a group to which she did not aspire but was certainly cool enough to join.

While she loved all of her nieces and nephews, she was not afraid to let them know when they stepped out of line. If you did something with which she did not agree she would pull you aside and tell you, but she never stopped loving you. No rowdy boys intimidated her. If one of them misbehaved, she had no problem telling them that they were too big for their britches. Her nephew, David, is still looking for the sling shot she confiscated from him when he was 10 years old and did not fully understand the meaning of words "No slingshots in the house".

Her house and yard were always immaculate and she was always cleaning or talking about cleaning. The only incongruous thing in her house was a few annual reports from TWA, Ramada Inn, Holiday Inn, GE and Ford that sat on her coffee table from time to time. She was not an investor, but her brother Dick thought it would be a good idea for her to have some stocks of her own. She agreed because her faith in her family and her friends was as strong as her religious faith. Besides, those colorful annual reports were too pretty to throw away.

While caring for her parents, Lucille worked full time. She started with Illinois Banker's Life in Monmouth, and continued with the firm at its new location when it moved to Chicago. During that transition, Lucille spent time living in Chicago with her sister, Mary and her good friend and cousin, Mary (Gavin) Smith. All three of them worked for the insurance company at that time, Lucille worked several years at radio station WRAM in Monmouth and ended her 55 year working career with the Stanton-Ingersoll Insurance Agency on the square in Monmouth.

There are at least 36 different ways that her nieces and nephews remember her but they all have one thing in common. Lucille made them feel loved no matter what and she taught them that family was important. Even in her later years she knew the names of the children and grandchildren of many of her nieces and nephews.

She said more than once, "We don't have much, but we did the best we could with what we had".

Lucille was preceded in death by her parents; her sisters Margaret Sullivan, Mary Weber, Frances Elliott, and Katherine Mills; her brothers Bill Gillen, Roy Gillen and Dick Gillen; and two nephews, John Gillen and Billy Gillen. She is survived by her brother George (Mary) Gillen; her sister Betty (Mike) Hennenfent; her sister-in-laws Helen Gillen and Karen Gillen; and her brother-in-law Ralph Elliott; 34 nieces and nephews; 94 great nieces and nephews; and 51 great great nieces and nephews.

Affectionately known as "Cil", Helen Lucille Gillen died on September 12, 2018 at the Monmouth Nursing Home. Turnbull Funeral Home is in charge of arrangements. The family will be present at Immaculate Conception Church for a rosary on Saturday, September 15 at 10:00 AM followed by a visitation. A funeral Mass will follow at the Immaculate Conception Church in Monmouth on Saturday, September 15 at 11:00 A.M. Memorials may be left for the Immaculate Conception School.
To send flowers or a remembrance gift to the family of Lucille Gillen, please visit our Tribute Store.
Previous Events
Rosary
Immaculate Conception Church
200 West Broadway
Monmouth, IL 61462
Rosary will be followed by visitation until the time of the service.
Funeral Mass
Immaculate Conception Church
200 West Broadway
Monmouth, IL 61462
Cemetery Details
Location
St. Mary's Catholic Cemetery
200 East Harlem Avenue
Monmouth, IL 61462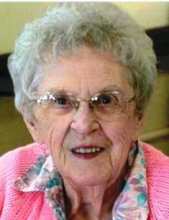 Thank you for sharing your
memory of Lucille
Provide comfort by sending fresh
flowers from our local florist.
No thanks, please don't show me this again.